UPDATE: 2017 MISSION TRIPS
In late June 2016, massive flooding ravished through the Appalachian hills of West Virginia.  Many towns were affected by the floods, however by the grace of God, our ministry home of Rosedale, WV was passed by with very little flooding and damage.  In the days after the floods, community members in Rosedale, alongside our Next Step volunteer teams put our work in Rosedale on pause and moved to neighboring towns to assist with the response efforts.  For six weeks, Next Step teams "mucked" and assisted homes in nearby Clendenin, who experienced some of the worst flooding in West Virginia.
Residents of Clendenin described the "whole town" as being under water, with floodwaters reaching nearly 35 feet in areas on the community.
The storm left extensive damage but also opened the door to some beautiful new relationships in Clendenin.  Because of these two factors, Next Step has made the decision to continue its relief efforts in Clendenin, WV for the summer of 2017.  
All Next Step participants on summer mission trips will work alongside our friends from Rosedale in an effort to assist and support our neighbors in Clendenin.  Due to the nature of response work, the specific projects are not determined at this time.  However, projects will include clean-up, interior repair work such as dry-wall and flooring and possibly new home builds or remodels.
We invite you to join us in this opportunity.  Thank you for your prayers and support during this time.  For any questions or to register to serve in Clendenin next summer please contact missions@nextstepministries.com
News Reports:
http://www.wsaz.com/content/news/Crews-get-first-access-to-town-of-Clendenin-after-flooding-384278451.html
http://www.wvgazettemail.com/apps/pbcs.dll/gallery?Site=CH&Date=20160626&Category=GZ01&ArtNo=626009998&Ref=PH
THE MISSION
Located in the heart of West Virginia, Braxton County presents the best of rural community living as well as the challenges. You will be amazed by the spectacular beauty of the mountains, but also overwhelmed by the isolation and lack of opportunity these same mountains and hills create. There are incredible physical needs of the families who call Braxton County home.
The Appalachian region is considered one of the most impoverished regions of the United States. Only 42% of individuals living in Braxton County graduate from high school, unemployment is high, and more than half of the households fall well below the poverty level. A significant number of homes lack adequate plumbing and kitchen facilities. But again, don't forget about the beauty.
Our partnership began in 2012, when we met Dani and Clark Ramsey who moved to Rosedale as missionaries over 10 years prior to our coming. Initially, the community was pretty skeptical of our arrival. The perception of 'outsiders' in Rosedale comes with a lot of weight. But through our partnership with the Ramsey family, we have been able to invest, develop, and commit to deeply rooted friendships, which has led to trust.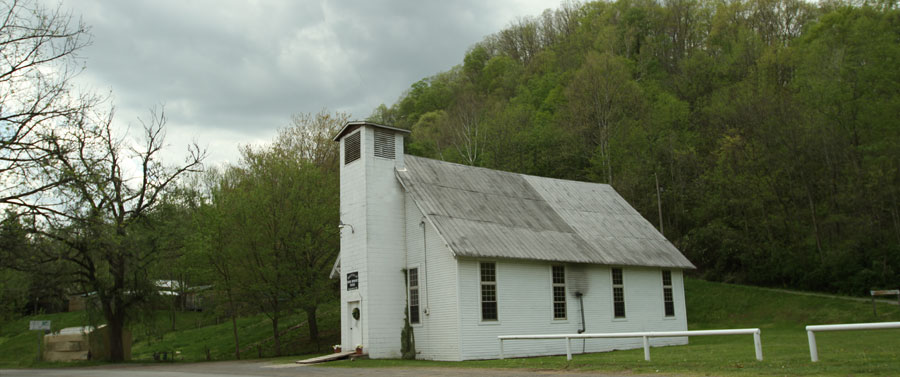 Day in and day out the Ramsey's continue to invest in the community spiritually, physically, and emotionally year-round. Their goal was and is still clear: to invest in the Rosedale community in a way that reflects and shares the love of Christ. From the beauty that already exists, they have seen more and more beauty emerge as the community of Rosedale continues to unify, seek Christ and His word, and work alongside each outside group that visits the community.
During your time in West Virginia, many of the work projects you will work on center around families who struggle to provide basic amenities for their children, or the growing elderly population living on a fixed income with no money for home repairs. But it doesn't stop with physical building. Relationships will form. You will learn new skills from the community members themselves. The beauty that has existed all along in this community will be made clear as you share in a week of fellowship with the heart and core of Rosedale. It is humbling to unite with Braxton County and the vision of transformation God has placed on this community's heart.
DATES AVAILABLE
| | |
| --- | --- |
| June 3-9 | July 8-14 |
| June 10-16 | July 15-21 |
| June 17-23 | July 22-28 |
| June 24-30 | July 29-August 4 |
| July 1-6** |   |
* Sunday – Friday Trip
Call for Availability on Crossed out Dates or for Winter/Spring Break Trips
AGE GROUPS ALLOWED
Middle School Students 

High School Students

College Students
TRIP COST
$419/person
*This includes all accommodations, food, work project materials and programming.
 Construction  75%
 Community Activities / Immersion  10%
 Relational Ministry  15%
FAMILIES HELPING FAMILIES

For the past few summers a local man named Steve has volunteered to help his neighbors alongside of our summer teams. This began with a few weeks here and there, and eventually Steve was volunteering with our staff, students, and neighbors all summer long. After a house fire a few years ago, Steve's family of four began dreaming of building a new home one-day. This past summer that dream became a reality. Although he continues helping with projects in the community year round; in the summer of 2015, Steve became the leader of his own home build, and plans to continue with teams in 2016. Also in 2015, Steve welcomed Next Step staff and neighbors to join him as he and his family were baptized in the creek in front of their new home.
HONORING OUR VETERANS
The tiny rural town of Rosedale has a tremendous amount of veterans. The whole community was concerned for one particular veteran who remained homeless with his family after multiple tours in Iraq. Everyone wanted to help Jerry, but no one had the resources. Because of the long-term commitment Next Step makes to communities, a full build began in 2012 and finished in 2014. Jerry designed the home that he, his wife, and son now live in. This beautiful hilltop home is located on a farm full of therapeutic animals for our wounded warrior.
MS. LILY'S HOME
Nearing her 70's, Ms. Lily tells the story of how at the age of 17, she was in a tragic accident and became totally blind. Over the past few summers she has graciously welcomed teams into her home. Ms. Lily was not able to get in and out of her house for church, doctors' appointments or anything else, if there was any rain. Teams labored all summer-long to build a sixty-foot ramp to give access for her wheelchair. She always encourages others to view life from a different perspective, and draws her strength and love from the Lord.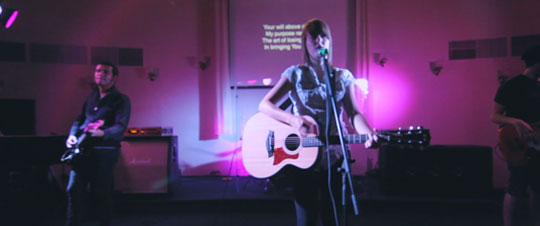 WORSHIP MUSIC
We've been told our worship experience is where summer camp meets mission trip. We put together bands from all over the country to lead your students in powerful worship every night. These talented and Christ-centered musicians will help show your students that worship can be fun, worship can be exciting, and worship can bring a joy they have maybe never experienced before.
CHALLENGING MESSAGES
It is our goal to bring your students closer to Christ this week. One way we do this is through challenging evening messages. Whether your students are new to the whole God thing or devoted Christians, these messages will help them understand Christ is alive and working in their lives today and a personal relationship with Him is available.
ORIGINAL VIDEO SERIES
Every summer we produce an original video series that coincides with the evening messages. This video series is our attempt to reach your students in yet another way with powerful stories of Christ in action. We've featured speakers such as Francis Chan, Shane Claiborne and Propaganda. You can watch some of our past video series in our Media Section.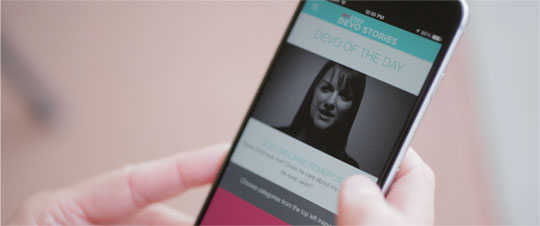 MyStep is an online program solely dedicated to helping your students, your church, or your ministry take the next step in a commitment to Jesus Christ. Whether you just came back from a mission trip through Next Step, or you're just looking for another way to strengthen your faith, MyStep is for you! We created a safe environment for students to explore the faith, and experience God in new and amazing ways!
Devo Stories are one of MyStep's most popular features. We have over 365 short video story illustrations that show the many different ways God is working in our daily lives. Whether it's a comical lesson about the consequences of stealing or a serious conversation about a parents' divorce, these stories help students understand God in new and real ways.
Another feature is the Prayer Wall, which provides an open and anonymous prayer forum for anyone to share their praises and concerns, and be prayed for throughout the year. Know our team is praying for these requests.
Both of these features can be installed for free on your mobile device. Simply search for Devo Stories or Prayer Wall on your phone or tablet's app store. This makes staying connected to God and each other easier than ever!
The trip is hosted at Heritage Baptist Church in Pinch, WV. We will sleep here, eat breakfast here, do our morning devos, and head out to our worksites in Clendenin, about 20 minutes away. At the end of the work day you'll head back to HBC, take showers, have some free time and get ready for dinner! Worship will follow dinner, in Heritage's sanctuary. In the church there are bunk beds, and cots to sleep on, depending on which room assignment you are given. Team leaders will work with you a week or two before your trip to let you know exactly what you'll need for bedding (air mattresses will be needed for bunk beds). There are bathrooms, a shower trailer with individual stalls, and a large sanctuary. There's a gas station and grocery store within 10 minutes of the church. Charleston Yeager Airport  (CRW) is 15 minutes from HBC, and Charleston WV, the capital city is 20 minutes away
Van Accessible (Not Bus Accessible)
This mission site is not bus accessible. Vehicles with four-wheel drive are recommended.  Some groups choose to fly and then rent vehicles for the week. The nearest airport is the Charleston Yeager Airport (CRW) in Charleston, WV and is a 15 minute drive from our mission site in Gassaway.
WHAT TO BRING
Twin Size Air Mattress
Bedding & Pillow
Water Bottle
Sunglasses
Sunscreen
Insect Repellent
Towel
Toiletries
Swim Suit
Work Shoes
Work Clothes
Casual Clothes
Work Gloves
Safety Glasses
Hammer
SUNDAY (ARRIVAL DAY)
3:00 pm – Arrive at Heritage Baptist Church
6:00 pm – Dinner at HBC
7:30 pm – Worship & Weekly Orientation
9:00 pm – Church time, Small groups & Free Time
11:00 pm – Lights Out
MONDAY – THURSDAY (WORK DAYS)
7:00 am – Wake Up
7:15 am – Eat Breakfast & Lunch Preparation
8:00 am – Morning Devotional
8:15 am – Depart for Clendenin Work Sites
12:00 pm – Lunch & Devotion
4:00 pm – Clean up Worksite and Return Home
4:30 pm – Free time, Shower Time, Adult Leader Meeting
6:00pm – Dinner
6:45 – Shower/Free time
8:00 pm – Worship
9:30 – Church Time/Free Time
11:00 pm – Lights Out 
FRIDAY (COMMUNITY / FUN DAY)
8:00 am – Wake up
8:15 am – Eat Breakfast and Lunch Preparation
9:00 am – Morning Devotion
9:15 am – Depart for Free Day Activity
4:30 pm – Free time, Shower Time, Adult Leader Meeting
6:30 pm – Dinner at HBC
8:00 pm – Worship
9:30 pm – Church Time/Free time
11:00 pm – Lights out