THE MISSION
On May 22, 2011, the small town of Joplin, Missouri was forever changed when a monstrous tornado swept through the center of the quiet southern town. The storm took the lives of 162 people, leaving thousands of others with nothing.
But even in this dark moment, there was hope.
The residents of Joplin came together as one, united and determined to rebuild their community. That same year, we partnered with a number of disaster relief volunteers and organizations to assist in the rebuilding process. Many homes were completely destroyed and others were heavily damaged.
Thanks in large part to thousands of volunteers; Joplin is rebuilt. Houses that were flattened are now standing again. Businesses that were destroyed are now up and running.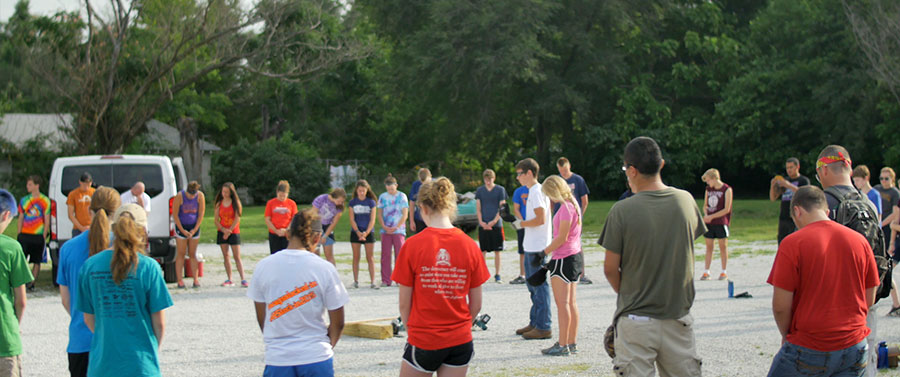 A transition has been made as to WHY we are rebuilding within this community, but the partnership persists as the local church has asked us to stay and continue working together as the body of Christ. This has led us into partnership with neighboring communities to Journey Church who were in need of physical repair long before the storm hit. With home repair as a platform, we are eager for you to join us in meeting new families, building a foundation of trust, and making disciples.
Debris from the storm also drew us to local organizations whose heart is to holistically transform Joplin through strengthening families and developing the youth of this town. Our desire is to support these organizations as they invest day in, day out into the larger community.
You can be a part of a movement sweeping through the town of Joplin; one that is significantly stronger than any storm.
DATES AVAILABLE
| | |
| --- | --- |
| June 3-9 | July 8-14 |
| June 10-16 | July 15-21 |
| June 17-23 | July 22-28 |
| June 24-30 | July 29-August 4 |
| July 1-6** |   |
* Sunday – Friday Trip
Call for Availability on Crossed out Dates or for Winter/Spring Break Trips
AGE GROUPS ALLOWED
Middle School Students 

High School Students

College Students
TRIP COST
$419/person
*This includes all accommodations, food, work project materials and programming.
 Construction  75%
 Community Activities / Immersion  10%
 Relational Ministry 15%
WATERED GARDENS

Watered Gardens is a local homeless shelter in Joplin that focuses on restoring dignity within those who are struggling. Next Step has been able to work with Watered Gardens since 2013. We have done a multitude of projects, from helping finish their new building addition, to refinishing the floors in the original building. In the future, Watered Gardens will be expanding their campus. We are looking forward to continuing to help with the new projects and buildings coming in the future.
NEIGHBORHOOD LIFEHOUSE
Neighborhood Lifehouse exists to build relationships within their community in a safe, Christ-centered environment. A lot of their outreach involves investing in the local youth. With that, Next Step has had the opportunity to do multiple projects such as building a playground for the youth at Lifehouse, and working on the historic Lifehouse building. In the past, we have had the opportunity to fully remodel parts of the building, from new flooring to drywall.
This congregation has become family to Next Step. This church is what our team calls 'home' for the duration of the summer. But this church has gone beyond simply providing a roof over our head. Journey is a growing congregation eager to grow outside the four walls of their church and serve the community of Joplin in an intimate and real way. There is a constant stir within the church to find creative ways to address the spiritual needs of the community. Journey Church has committed to following up with the families we work with over the summer in order to continue building a relationship and sharing the love of Christ.
Journey Church has created the 2in5 Initiative which is a vision to reach every house within a five mile radius of the church in a two year time frame. They want to reach these homes with physical construction and emotional needs, as well. Next Step is working with families in this two mile radius, rebuilding floors, roofs, and various other projects. We have a unique opportunity to invite these families to church so they can get involved more deeply in the Journey community.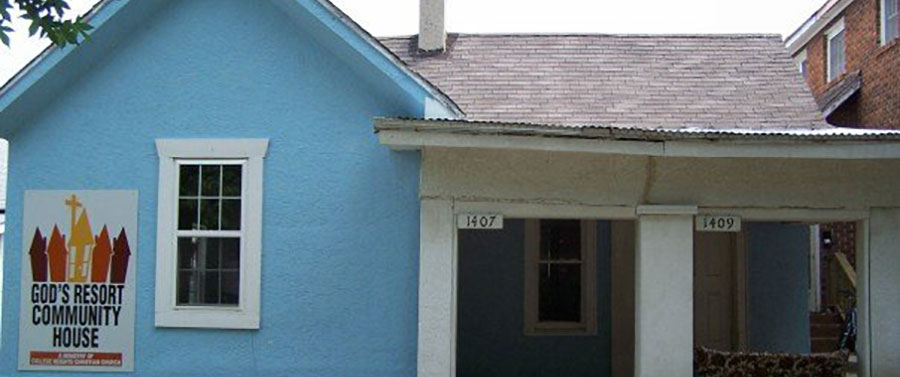 God's Resort is a ministry that helps with transitional housing. They own a block of houses and allow individuals or families coming out of shelter to stay in them. This gives people the opportunity to learn how to pay rent and maintain a home in a loving and welcoming environment. Next Step has had the opportunity to work on multiple projects at God's Resort, including siding, building a shed, and painting.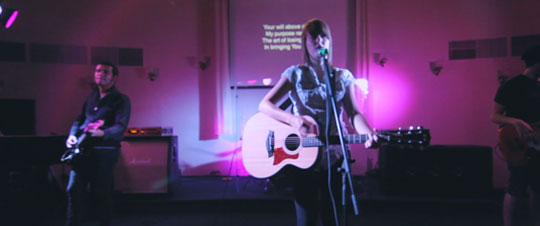 WORSHIP MUSIC
We've been told our worship experience is where summer camp meets mission trip. We put together bands from all over the country to lead your students in powerful worship every night. These talented and Christ-centered musicians will help show your students that worship can be fun, worship can be exciting, and worship can bring a joy they have maybe never experienced before.
CHALLENGING MESSAGES
It is our goal to bring your students closer to Christ this week. One way we do this is through challenging evening messages. Whether your students are new to the whole God thing or devoted Christians, these messages will help them understand Christ is alive and working in their lives today and a personal relationship with Him is available.
ORIGINAL VIDEO SERIES
Every summer we produce an original video series that coincides with the evening messages. This video series is our attempt to reach your students in yet another way with powerful stories of Christ in action. We've featured speakers such as Francis Chan, Shane Claiborne and Propaganda. You can watch some of our past video series in our Film Section.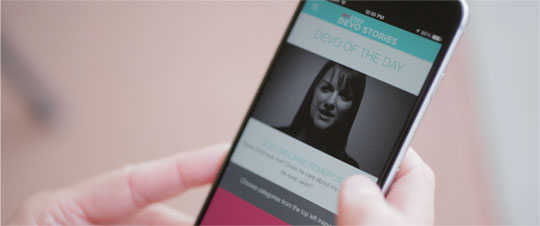 MyStep is an online program solely dedicated to helping your students, your church, or your ministry take the next step in a commitment to Jesus Christ. Whether you just came back from a mission trip through Next Step, or you're just looking for another way to strengthen your faith, MyStep is for you! We created a safe environment for students to explore the faith, and experience God in new and amazing ways!
Devo Stories are one of MyStep's most popular features. We have over 365 short video story illustrations that show the many different ways God is working in our daily lives. Whether it's a comical lesson about the consequences of stealing or a serious conversation about a parents' divorce, these stories help students understand God in new and real ways.
Another feature is the Prayer Wall, which provides an open and anonymous prayer forum for anyone to share their praises and concerns, and be prayed for throughout the year. Know our team is praying for these requests.
Both of these features can be installed for free on your mobile device. Simply search for Devo Stories or Prayer Wall on your phone or tablet's app store. This makes staying connected to God and each other easier than ever!
The trip is hosted at the Journey Church Ministry Center. The facility is located in central Joplin and includes large sleeping areas for guys and girls. Sleeping will be on the floor so please bring a twin air mattress and bedding. There are bathrooms in the facility and a shower trailer on site with individual shower stalls.
This mission site is bus and van accessible. Some groups choose to fly and then rent vehicles for the week. The nearest airports are Northwest Arkansas Regional Airport (XNA) located 1.5 hours away, or the Joplin Regional Airport (JLN) located just 15 minutes away from where we stay in Joplin.
WHAT TO BRING
Twin Size Air Mattress
Bedding & Pillow
Water Bottle
Sunglasses
Sunscreen
Insect Repellent
Towel
Toiletries
Swim Suit
Work Shoes
Work Clothes
Casual Clothes
Work Gloves
Safety Glasses
Hammer
SUNDAY (ARRIVAL DAY)
3:00-5:00 pm – Arrive to Mission Location
6:00 pm – Dinner
7:00 pm – Worship & Weekly Orientation
8:30 pm – Church Time, Small groups, Free Time
11:00 pm – Lights Out
MONDAY – THURSDAY (WORK DAYS)
7:00 am – Wake Up
7:15 am – Eat Breakfast & Lunch Preparation
8:00 am – Morning Devotional
8:15 am – Depart for Worksite & Begin Working
12:00 pm – Lunch & Devotion
1:00 pm – Resume Working
3:30 pm – Clean Up/Return
4:00 pm – Free time/Showers/Leader Meeting
6:00pm – Dinner
7:00 pm – Worship
8:30 – Church Time/Small Groups/Free Time
11:00 pm – Lights Out
FRIDAY (COMMUNITY / FUN DAY)
8:00 am – Wake Up 
8:15 am – Eat Breakfast & Lunch Preparation
9:00 am – Morning Devotion
9:15 am – Leave for Free Day Activity
4:00 pm  – Shower Time/Free Time/Leader Meeting
6:00 pm – Dinner
7:00 pm – Worship
8:30 pm – Church Time/Small Groups/Free time
11:00 pm – Lights Out