THE MISSION
In 2008, our country faced its greatest financial crisis since the Great Depression. Savings were lost. Jobs disappeared. Poverty swelled. This crisis has made an especially detrimental impact in Lorain County, Ohio.
Lorain County, a blue-collar working county located just outside of Cleveland, was built on the backs of steel workers and ship builders. However, as the industry dried up and jobs vanished, poverty set in. In 2009, Lorain's poverty rate jumped by a third, claiming 33.7% of all county residents. Perhaps the most troubling statistic is that over half of Lorain's senior citizens currently live below the poverty line. Many struggle to meet their basic needs such as food and shelter.
Next Step became aware of this problem when a local church and team of community leaders reached out to us as a means of partnership in revitalizing Lorain. A church and community already determined to bring life back to the streets of Lorain that were once alive. This began our journey.
We now partner with Neighborhood Alliance, and other local churches and organizations to do just that. Specifically, Next Step has partnered with Lorain County's Neighborhood Alliance organization to help meet the home repair and construction needs of seniors in their community. Neighborhood Alliance has been compassionately caring for Lorain County since 1927, focusing on strengthening the community by helping low-income residents meet their basic needs. They deliver around 400 meals a day to Lorain's senior citizens, provide daily shelter to many residents who are currently homeless, and provide childcare for over 100 children each day.
The families and senior citizens Neighborhood Alliance knows so well through feeding programs, are the same families we are referred to for home repair. But we quickly recognized that home repair is just a platform for the relationships we are able to form each week. Many residents struggle with feelings of isolation and loneliness. When they open their door for construction work to be done, we see it as an open door to show the love of Christ in a way that offers hope and dignity.
Other opportunities to learn and fellowship with this community throughout the week are: participating in a city tour and a community block party. Every person you meet, nail you hammer, and organization you work with, is an opportunity to come alongside the momentum taking place in Lorain. A momentum of renewal.
DATES AVAILABLE
| | |
| --- | --- |
| June 2-8 | July 7-13 |
| June 9-15 | July 14-20 |
| June 16-22 | July 21-27 |
| June 23-29 | July 28-Aug 3 |
| June 30-July 5** |   |
* Sunday – Friday Trip
Call for Availability on Crossed out Dates or for Winter/Spring Break Trips
AGE GROUPS ALLOWED
Middle School Students 

High School Students

College Students
TRIP COST
$419/person
*This includes all accommodations, food, work project materials and programming.
 Construction  75%
 Community Activities / Immersion  10%
 Relational Ministry  15%
FLOORING PROJECT

As a large part of the community we serve with is elderly, many projects we do address handicap mobility issues. In the summer of 2013 we worked with an elderly man who was new to using a wheel chair. His entire home was carpeted making it difficult to be mobile when he was by himself. Volunteers ripped out the existing carpet, repaired sections of the subfloor, and replaced the flooring with a sturdy laminate that would allow for easy travel from room to room.
WHEEL CHAIR/PORCH/GARAGE PROJECT
In the summer of 2014 we began a partnership with an elderly man who was facing many challenges with fines from the city; Lorain cites people who have unsightly parts to their property. This gentleman had a porch and garage that were in disrepair with no way to fund the repairs. A new porch, handicap ramp, and garage remodel were completed over the past two summers, removing the once challenging fines.
WHEEL CHAIR RAMPS/ROOF PROJECT
In 2015 a couple contacted Next Step in regards to fixing two sinking concrete ramps and a roof with shingles that had been blown off. The ramps created a serious tipping hazard, as the husband is restricted to a wheel chair. Repairs by an outside organization had already been made to these wheelchair ramps, but were done poorly in the past. With the family, we were able to complete the two new ramps and roof successfully!
Neighborhood Alliance has a vision of creating and achieving genuine communities of inclusion and empowerment for all individuals. This organization serves Lorain County and its neighborhoods through: addressing basic needs, enhancing individual and family life, and improving neighborhoods and communities. These three goals are accomplished through specific community initiatives: child enrichment programs, family support programs, senior enrichment programs, as well as shelter and emergency services.
Specifically, Neighborhood Alliance delivers hundreds of meals each day to elderly residents all across Lorain County. They have built long-standing relationships with each resident and enter their homes on a daily basis. Neighborhood Alliance seeks to meet the physical needs of each individual as well, but are without the necessary resources.
Our partnership with Neighborhood Alliance comes in the form of choosing which individuals we work with for various home repair projects throughout the summer. The relationship Neighborhood Alliance has with these families and individuals, assures us that we are meeting true needs of the community.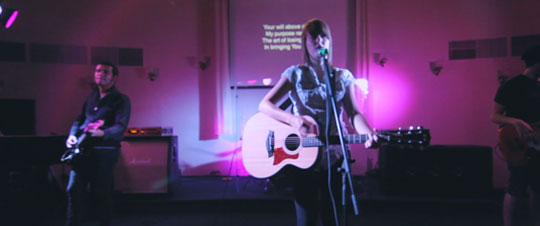 WORSHIP MUSIC
We've been told our worship experience is where summer camp meets mission trip. We put together bands from all over the country to lead your students in powerful worship every night. These talented and Christ-centered musicians will help show your students that worship can be fun, worship can be exciting, and worship can bring a joy they have maybe never experienced before.
CHALLENGING MESSAGES
It is our goal to bring your students closer to Christ this week. One way we do this is through challenging evening messages. Whether your students are new to the whole God thing or devoted Christians, these messages will help them understand Christ is alive and working in their lives today and a personal relationship with Him is available.
ORIGINAL VIDEO SERIES
Every summer we produce an original video series that coincides with the evening messages. This video series is our attempt to reach your students in yet another way with powerful stories of Christ in action. We've featured speakers such as Francis Chan, Shane Claiborne and Propaganda. You can watch some of our past video series in our Film Section.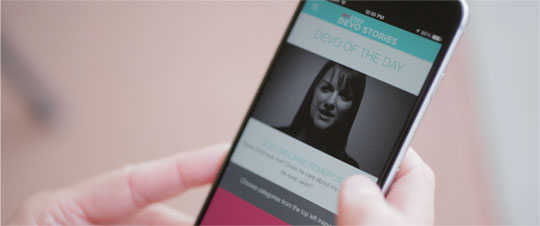 MyStep is an online program solely dedicated to helping your students, your church, or your ministry take the next step in a commitment to Jesus Christ. Whether you just came back from a mission trip through Next Step, or you're just looking for another way to strengthen your faith, MyStep is for you! We created a safe environment for students to explore the faith, and experience God in new and amazing ways!
Devo Stories are one of MyStep's most popular features. We have over 365 short video story illustrations that show the many different ways God is working in our daily lives. Whether it's a comical lesson about the consequences of stealing or a serious conversation about a parents' divorce, these stories help students understand God in new and real ways.
Another feature is the Prayer Wall, which provides an open and anonymous prayer forum for anyone to share their praises and concerns, and be prayed for throughout the year. Know our team is praying for these requests.
Both of these features can be installed for free on your mobile device. Simply search for Devo Stories or Prayer Wall on your phone or tablet's app store. This makes staying connected to God and each other easier than ever!
The trip is hosted at Avon Lake Presbyterian Church. Here we will worship, eat meals, sleep, shower, and hang out! Guys and girls will be separated into different rooms for sleeping arrangements. Sleeping will be on the floor so please bring a twin air mattress and bedding. There are bathrooms in the facility and a shower trailer on site with individual shower stalls. While there is no AC, there will be plenty of fans to help keep cool.
This mission site is bus and van accessible. Some groups choose to fly and then rent vehicles for the week. The nearest airports are the Cleveland Hopkins International Airport (CLE) located 27 minutes away, or the Akron-Canton Airport (CAK) located one hour away from Lorain.
WHAT TO BRING
Twin Size Air Mattress
Bedding & Pillow
Water Bottle
Sunglasses
Sunscreen
Insect Repellent
Towel
Toiletries
Swim Suit
Work Shoes
Work Clothes
Casual Clothes
Work Gloves
Safety Glasses
Hammer
SUNDAY (ARRIVAL DAY)
3:00-5:00 pm – Arrive to Mission Location
6:00 pm – Dinner
7:00 pm – Worship & Weekly Orientation
8:30 pm – Church Time, Small groups, Free Time
11:00 pm – Lights Out
MONDAY – THURSDAY (WORK DAYS)
7:00 am – Wake Up
7:15 am – Eat Breakfast & Lunch Preparation
8:00 am – Morning Devotional
8:15 am – Depart for Worksites
12:00 pm – Lunch & Devotion
1:00 pm – Resume Working
3:30 pm – Clean Up
6:00 pm – Dinner
7:00 pm – Worship
8:00 – Church Time/Small Groups/Free Time
11:00 pm – Lights Out
FRIDAY (COMMUNITY / FUN DAY)
8:00 am – Wake Up 
8:15 am – Eat Breakfast & Lunch Preparation
9:00 am – Leave for Free Day Activity!
12:00 pm – Lunch and Devo
1:00 pm – Community Activities
3:30 pm  – Shower Time/Free Time/Leader Meeting
5:00 pm – Community Cookout
7:00 pm – Worship
8:00 pm – Church Time/Small Groups/Free time
11:00 pm – Lights Out