THE MISSION
Two hours from Albuquerque in the desert mountains of the Navajo Nation Reservation, lies the isolated community of Crownpoint. Here, the physical brokenness is evident. Not as evident is the alcoholism, abuse, unemployment, and hopelessness that exists. On the reservation, there are times when the history of broken promises towards the Native American people and the resentment that has formed, can be sensed.
Our partnership in Crownpoint began in 2009 and has led us to a deeply rooted relationship with the local church, and families who desire transformation within the reservation. Relationships rooted in trust. Many of these families embrace their rich history and traditions, while also carrying a strong faith in Christ. These families are the hope in this community and continue to believe in the renewal that can happen within Crownpoint.
You will get the chance to meet members at Gospel Lighthouse Church during your week. This is a nondenominational church in Crownpoint rooted in outreach and serving their neighbors. Beginning in 2013, we were blessed to come alongside the congregation's vision of a community center and build a facility with them for their current use of outreach in the area. Families within the church utilize this building throughout the year to extend themselves to the community.
Throughout your time in Crownpoint, the platform for building relationships will typically be found through working on an individual or family's home in construction work. But the goal is much more than home repair. It's an opportunity to connect. To share stories. To learn about a new culture. To show the love of Christ. And to connect them back to the local church.
With humility as our guide, we seek to work alongside families in this community in a way that offers an apology, a respect, and a love for one another.
DATES AVAILABLE
| | |
| --- | --- |
| June 2-8 | July 7-13 |
| June 9-15 | July 14-20 |
| June 16-22 | July 21-27 |
| June 23-29 | July 28-Aug 3 |
| June 30-July 5** |   |
* Sunday – Friday Trip
Call for Availability on Crossed out Dates or for Winter/Spring Break Trips
AGE GROUPS ALLOWED
Middle School Students 

High School Students

College Students
TRIP COST
$419/person
*This includes all accommodations, food, work project materials and programming.
 Construction  80%
 Community Activities / Immersion  10%
 Relational Ministry  10%
COMMUNITY CENTER

Gospel Lighthouse church has been active in the community of Crownpoint for years now, and as God continues to work within that community, Gospel lighthouse continues to grow. Pastor Carlos wanted to create an area for the youth, community events, bible studies, and counseling. We began the large task of building a 3600 square foot community center in 2014. The community, the church, and Next Step have used it continuously since then.
MARIE'S HOME
Marie has been a friend of Next Step since the beginning of our partnerships in Crownpoint. In 2014, we were able to start building Marie a house of her own. For the first time in her life, Marie will have a comfortable home with running water, electricity, and a reliable heat source.
VIRGIELINE AND JONES TOM
Next Step has had the great opportunity to serve alongside this family during the summers of 2014 and 2015. The family lived in a small leaky trailer home as, together, we began to put an addition on to the home for their growing family. Next Step was able to help finish the addition, as well as remodel parts of the existing trailer.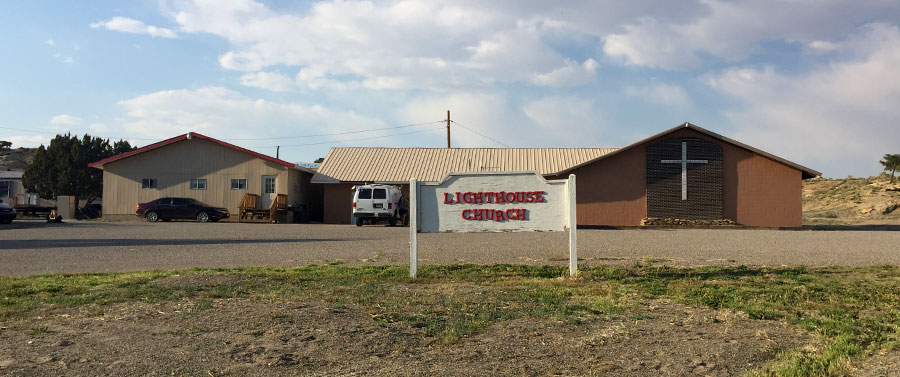 Gospel Lighthouse is a local church focused on serving the community of Crownpoint and congregation alike. Gospel Lighthouse is in the community year round, showing and sharing the love of Christ. During the summer Next Step serves the community alongside this congregation, as well as calls their building 'home'.
St. Paul's has been serving Crownpoint in many ways over the years. They have been actively making God famous in their community by focusing their efforts on collecting and distributing donations in a way that meets the needs as well as promotes dignity. Next Step has the opportunity to support this church and Crownpoint through any donations we receive for this community.
Basha's general store is one of the only grocery stores located in Crownpoint, which means it's usually busy with customers shopping all throughout the day.  This has made the perfect location for our community cookout! We set up lots of food, game tables, and even bingo, as people from the community come and go all throughout the evening. This partnership has been a huge blessing and has allowed us to connect with families outside of the local church.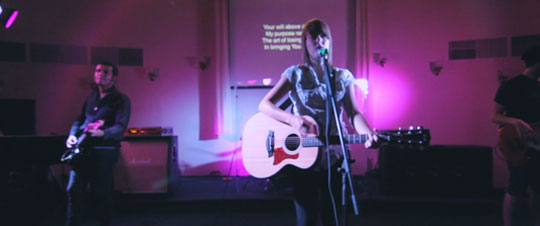 WORSHIP MUSIC
We've been told our worship experience is where summer camp meets mission trip. We put together bands from all over the country to lead your students in powerful worship every night. These talented and Christ-centered musicians will help show your students that worship can be fun, worship can be exciting, and worship can bring a joy they have maybe never experienced before.
CHALLENGING MESSAGES
It is our goal to bring your students closer to Christ this week. One way we do this is through challenging evening messages. Whether your students are new to the whole God thing or devoted Christians, these messages will help them understand Christ is alive and working in their lives today and a personal relationship with Him is available.
ORIGINAL VIDEO SERIES
Every summer we produce an original video series that coincides with the evening messages. This video series is our attempt to reach your students in yet another way with powerful stories of Christ in action. We've featured speakers such as Francis Chan, Shane Claiborne and Propaganda. You can watch some of our past video series in our Film Section.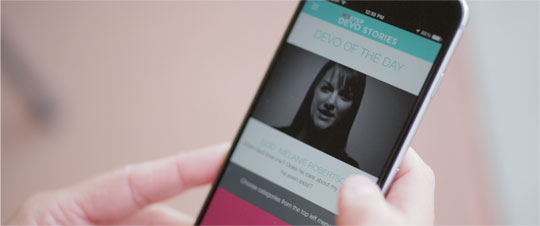 MyStep is an online program solely dedicated to helping your students, your church, or your ministry take the next step in a commitment to Jesus Christ. Whether you just came back from a mission trip through Next Step, or you're just looking for another way to strengthen your faith, MyStep is for you! We created a safe environment for students to explore the faith, and experience God in new and amazing ways!
Devo Stories are one of MyStep's most popular features. We have over 365 short video story illustrations that show the many different ways God is working in our daily lives. Whether it's a comical lesson about the consequences of stealing or a serious conversation about a parents' divorce, these stories help students understand God in new and real ways.
Another feature is the Prayer Wall, which provides an open and anonymous prayer forum for anyone to share their praises and concerns, and be prayed for throughout the year. Know our team is praying for these requests.
Both of these features can be installed for free on your mobile device. Simply search for Devo Stories or Prayer Wall on your phone or tablet's app store. This makes staying connected to God and each other easier than ever!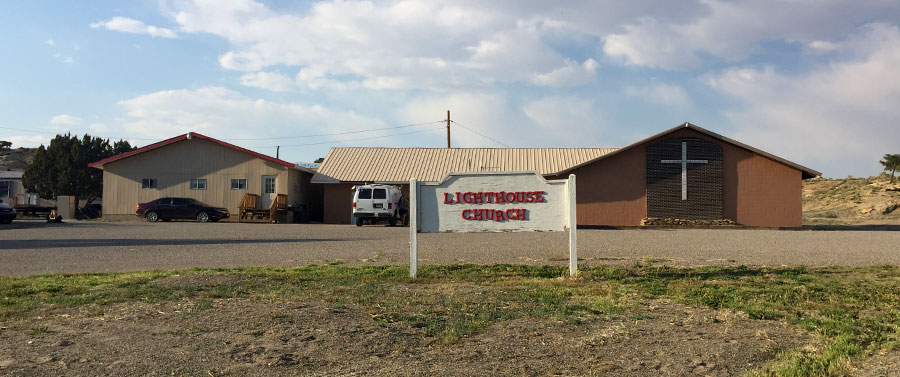 The trip is hosted at Gospel Lighthouse Church in the heart of Crownpoint. Guys and girls will be separated into different rooms in the Community Center, located directly next to the church. Sleeping will be on the floor so please bring a twin air mattress and bedding. There are individual shower stalls and bathrooms inside the Community Center. Meals will be served outside in the pavilion and worship will be hosted in the church sanctuary.
This site is bus accessible, but vans are preferred. Some groups choose to fly and then rent vehicles for the week. The nearest airport is Albuquerque International airport (ABQ) in Albuquerque, NM and is a two hour drive from Crownpoint.
WHAT TO BRING
Twin Size Air Mattress
Bedding & Pillow
Water Bottle
Sunglasses
Sunscreen
Insect Repellent
Towel
Toiletries
Swim Suit
Work Shoes
Work Clothes
Casual Clothes
Work Gloves
Safety Glasses
Hammer
For most summer dates, please see the standard mission trip schedule below. Please plan on arriving on Sunday afternoon between 3-5pm and departing Saturday morning 8-9am. Monday-Thursday are work days and Friday will be a fun day!
For the week of June 30-July 5*, please note the trip is scheduled to end Friday morning between 8-9am. This means you would arrive Sunday afternoon between 3-5pm, Monday-Thursday are still work days, but the Friday fun day is not included. The trip ends Friday morning 8-9am. This shorter schedule is to allow our on-site staff with one long weekend in the summer for rest.
SUNDAY (ARRIVAL DAY)
3:00-5:00 pm – Arrive to Mission Location
6:00 pm – Dinner
7:00 pm – Worship & Weekly Orientation
8:30 pm – Church Time, Small groups, Free Time
11:00 pm – Lights Out
MONDAY – THURSDAY (WORK DAYS)
7:00 am – Wake Up
7:15 am – Eat Breakfast & Lunch Preparation
8:00 am – Morning Devotional
8:15 am – Depart for Worksite & Begin Working
12:00 pm – Lunch & Devotion
1:00 pm – Resume Working
3:30 pm – Clean Up/Return
4:00 pm – Free time/Showers/Leader Meeting
6:00pm – Dinner
7:00 pm – Worship
8:30 – Church Time/Small Groups/Free Time
11:00 pm – Lights Out
FRIDAY (COMMUNITY / FUN DAY)
8:00 am – Wake Up 
8:15 am – Eat Breakfast & Lunch Preparation
9:00 am – Leave for Free Day Activity!
12:00 pm – Lunch and Devo
4:00 pm  – Shower/Free Time/Leader Meeting
6:30 pm – Dinner
8:00 pm – Worship
9:30 pm – Church Time/Small Groups/Free time
11:00 pm – Lights Out