Known for stories of resilience and determination, Skid Row sits in the heart of downtown Los Angeles. Students will be a part of extending dignity and compassion to those they meet as they live, connect, and worship with experiencing homelessness.
THE MISSION IN
LOS ANGELES, CALIFORNIA
People often think of Los Angeles as a beautiful city with famous celebrities, huge mansions, and beautiful beaches. But hidden behind the wealth and success exists thousands of people living in a state of homelessness — and they live in a place called Skid Row. The streets of Skid Row exemplify the stark contrast between the wealthy and the poor, this gap being one of the greatest in the country.
On your mission trip you will team up with incredible local organizations like the Union Rescue Mission, Hope Gardens, and Enrich LA. As we partner with these incredible organizations, your students will learn about the city of Los Angeles and begin to understand homelessness on a deeper level.
Our desire is that the gospel and hope of Christ can be a beacon of hope on Skid Row. Whether interacting with someone extremely similar or vastly different than you, sharing in the joy found in the Lord is our main platform for ministry. Through primarily relational opportunities, Next Step Students get to be a part of sharing Christ's love on Skid Row.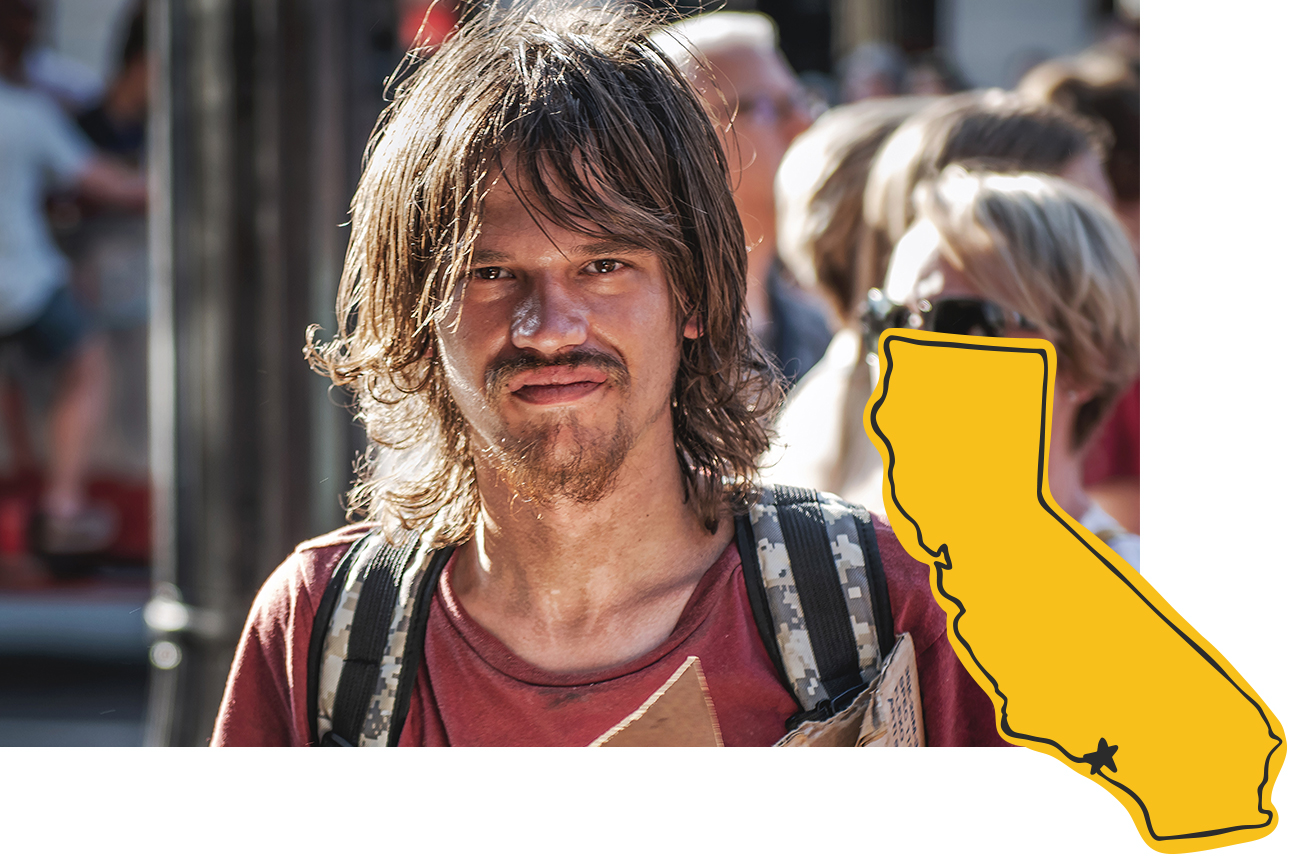 HOPE GARDENS
Houses Women and Children

An oasis of hope on 71 acres in the foothills of Sylmar, California, this transitional housing campus offers sanctuary to single women and children who are experiencing homelessness. Next Step has participated in a variety of projects alongside Hope Gardens such as landscaping, children's programming, community wide events, and meal service.

UNION RESCUE MISSION
Christian Homeless Shelter
URM is a Christian homeless shelter in downtown Los Angeles. It is the largest private homeless shelter in the country providing emergency and long-term services including food, shelter, clothing, recovery programs, transitional housing, etc. Next Step has partnered with URM in relational ministry including kids ministry, day room outreach, and organizational projects.

ENRICH LA
Community Wellness Program
EnrichLA is a community wellness non-profit that builds gardens in local schools, focusing on low-income neighborhoods of Los Angeles. Next Step students are able to assist in building a fully functioning garden within one work day! This means taking part in everything from building flower beds, setting up an irrigation system, weeding, planting, and harvesting!

POVERTY ENCOUNTER
Poverty Encounter is an immersive experience that shares real stories of children living in extreme poverty. Next Step students will experience what it is like to travel to four different countries in the developing world, then participate in a hands-on food packing experience to support the work of a local church.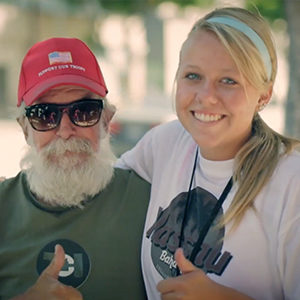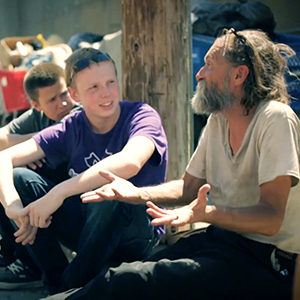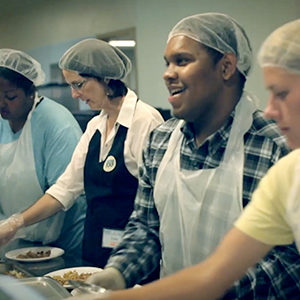 We've been told our worship experience is where summer camp meets mission trip. At Next Step, your students will create unforgettable memories and friendships while worshipping and growing together in their understanding of who Jesus is. Each evening will include great bands, challenging speakers and a powerful video series created and filmed exclusively for your mission trip.
Have you ever gone on a mission trip and been disappointed by the work projects? You're left wondering— isn't there something more we could have done? At Next Step, we have partnered with local community leaders to ensure that the projects are meaningful and alleviate vital building needs. Your students will work on projects such as full home builds, home additions, drywall, siding, flooring, wheelchair ramps, and more.
Do you ever wonder if your short-term mission trip really made a difference? At Next Step, students serve alongside local community members, churches and nonprofits, as we meet the needs of the community together. With our full-time staff living in the communities we partner with, and projects being selected by the community, you will be part of a movement in responsible short-term missions.
The trip is hosted at Pasadena Four Square Church in Pasadena, CA. This facility is located about 20 minutes from downtown Los Angeles. Sleeping will be on the floor so please bring a twin air mattress and bedding.
Van Accessible, GPS Recommended (Not Bus Accessible)
With all of the urban driving, vans (no larger than 15 passenger) are the best vehicle for the trip. Remember to plan accordingly for extra time with LA traffic. Some groups choose to fly and then rent vehicles for the week. The nearest airports are Burbank Airport, which is about 30 minutes away, and LAX, about 1 hour away. The Burbank Airport is much smaller and easier to navigate with a larger group.
Twin Size Air Mattress
Bedding & Pillow
Lightweight Jacket
Water Bottle
Sunglasses
Sunscreen
Insect Repellent
Towel
Toiletries
Swim Suit
Work Shoes
Work Clothes
Casual Clothes
SUNDAY (ARRIVAL DAY)
3:00-5:00 pm – Arrive to Mission Location
6:00 pm – Dinner
7:00 pm – Worship & Weekly Orientation
8:30 pm – Church Time, Small groups, Free Time
11:00 pm – Lights Out
MONDAY – THURSDAY (WORK DAYS)
7:00 am – Wake Up
7:15 am – Eat Breakfast & Lunch Preparation
8:00 am – Morning Devotional
8:15 am – Depart for Worksite & Begin Working
12:00 pm – Lunch & Devotion
1:00 pm – Resume Working
3:30 pm – Clean Up/Return
4:00 pm – Free time/Showers/Leader Meeting
6:00pm – Dinner
7:00 pm – Worship
8:30 – Church Time/Small Groups/Free Time
11:00 pm – Lights Out
*This schedule can vary daily
FRIDAY (COMMUNITY / FUN DAY)
8:00 am – Wake Up
8:15 am – Eat Breakfast & Lunch Preparation
9:00 am – Morning Devotion
9:15 am – Beach Day!
4:00 pm – Shower Time/Free Time/Leader Meeting
6:00 pm – Dinner
7:00 pm – Worship
8:30 pm – Church Time/Small Groups/Free time
11:00 pm – Lights Out
When should I register for my trip?
Registration opens in July and will be available through early spring. To get your preferred dates, locations, and spaces, it is recommended to secure your spots sometime before October.
What is the min or max people per group?
For summer mission trips you must have a minimum of five participants to be eligible for a group. If you have less than five participants on your team, please contact our office. The maximum number of people will depend on location capacity and availability.
What is the adult to student ratio required?
Next Step Ministries asks each group to bring 1 adult for every 6 students.
Are background checks required?
Yes. Each church group is responsible for conducting background checks on each participant 18 years of age or older.
When will we find out what our work are?
Your group will learn about the work projects on the first night of your trip! Our staff will contact you 1-2 weeks prior to the trip to share updates and provide an adjusted tool list.
How are the trips staffed?
A Next Step Partnership Coordinator facilitates community partnerships, lines up projects, leads the summer staff, and coordinates other logistics such as lodging and accommodations. The trip itself will be facilitated by 8-12 energetic, mission-minded, and highly trained college interns. The site staff will include a construction team, worship team, speaker, meal coordinators, and administrative leaders to guide you through the week.
What if the trip I'm considering is already full?
Each location has a different max capacity, so please contact our office to learn more about spaces available. In the event we are fully booked for the trip you are interested in, we can put you on a wait list or help find alternative trip options. To avoid these delays, we recommend registering for your trip as soon as you can!
What is the payment schedule?
Payment for a Next Step Ministries mission trip is separated into a deposit and two scheduled payments:
Deposit - $50 non-refundable and non-transferable deposit per spot reserved due within 30 days of your trip registration date

March 15th Payment – 50% of remaining balance of trip cost due

May 15th Payment – 100% of remaining total balance of trip cost due
Is Next Step affiliated with a denomination?
No, we do not affiliate with a particular denomination. Next Step Ministries is an interdenominational organization and we partner with hundreds of churches from all different denominations on our mission trips. Please see our Statement of Faith to learn more about what we believe. In simple terms, we stick to the basics of the Gospel. Our foundation for ministry is to provide opportunities for students to connect and grow in a personal relationship with Christ.
How are the work projects selected?
Next Step Ministries works alongside community leaders, non-profit organizations, and the local church in order to set up work projects. Full-time Next Step Staff called Partnership Coordinators live and serve within the community year round and are well connected. Next Step collaborates with the community to plan the projects you will be working on in advance.
Will our group be paired with other groups?
You will most likely be attending a trip with 2-4 other youth groups. All groups will share sleeping quarters and we will have meals and worship together as a large group. Many of our mission site locations can accommodate for 80-100 volunteers each week. For work projects, we love to mix students, but also understand many groups prefer to stick together. Please let us know your preference and we will plan accordingly!
Is the mission trip safe?
Yes. Next Step Ministries exists to give middle school, high school, and college students an opportunity to explore their faith, experience God, and extend service to others on a mission trip. Students are our top priority and safety is always our primary concern. Thankfully, because of our long-term commitment and involvement within the community, we have developed many close relationships with local families and organizations. The community is familiar with Next Step and we've worked hard to humbly earn their trust and respect. Because of these close friendships we are the first to know if something out of the ordinary comes up or is unsafe.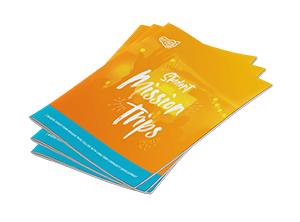 WANT MORE INFORMATION?
Day or night, Next Step Ministries is happy to hear from you. Whether you have a question, comment or concern, please don't hesitate to give us a call. As an additional resource, feel free to download this brochure for all your mission trip information in one place.