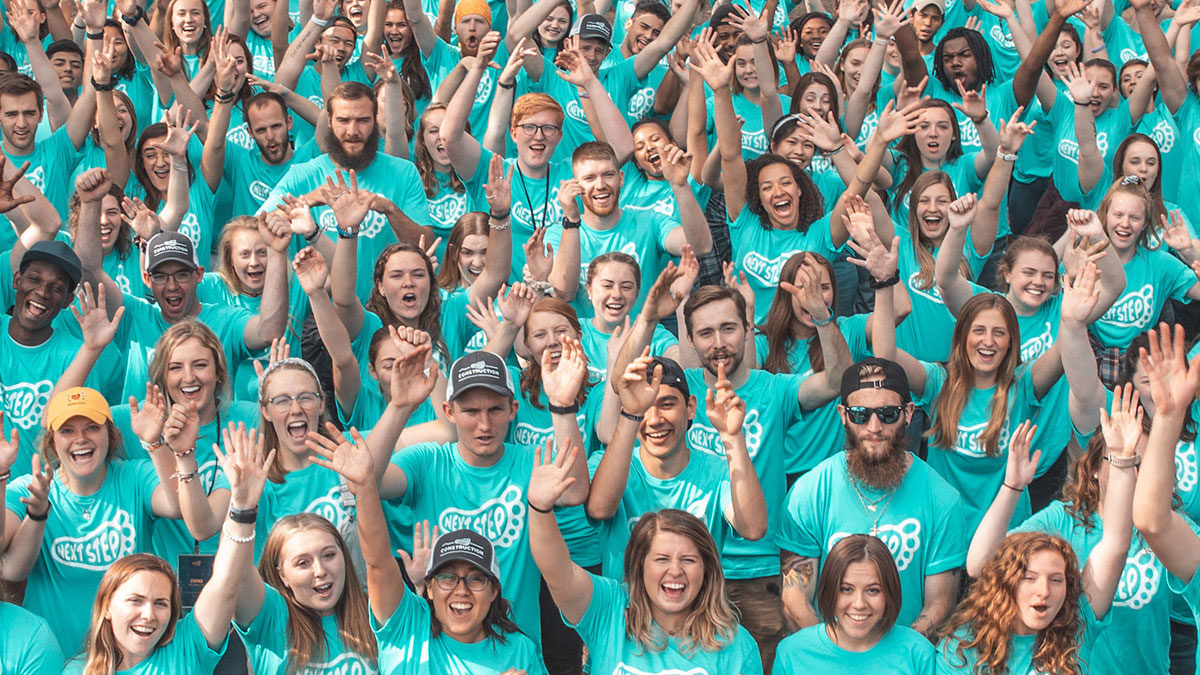 Our Summer interns are the face of Next Step Ministries. We are so thankful for them and al the hard work they do each summer to further the Kigndom through this ministry. As you may know, our summer internship programs have a fundraising requirement of $2,500. this money goes towards covering internship expenses, community materials, and community outreach expenses. We've created the Intership Scholarship fund as a way to help support interns who are unable to raise their full fundraising amount for the summer.
Our heart behind the Internship Scholarship Fund is that we recognize that some college interns simply do not have the same network and community as others, and raising $2,500 can be a challenge. We would never want the support raising component of our internships to be the reason that someone is not able to serve God through a Next Step Summer internship. By donating you can help fill gaps for interns who have put in a full effort towards suport raising, and make it possible for them to serve with us and recieve compensation for their internship.
NEXT STEP HAS CHANGED MY LIFE
Hannah
"Serving as emcee for 3 summers with Next Step has totally stretched and grown me in unimaginable ways. I now have the confidence to get up night after night and speak to people from all over. It also taught me that even just one conversation can change someone's life forever - including mine. Thankful for the opportunity to grow in this way."
Kayla
"Working as a summer intern with Next Step was impactful and life-giving in so many ways.  I gained amazing experience in leadership that I wouldn't have been able to get from an internship in a standard ministry setting.  Being trusted with the great responsibility to be the hands and feet of the ministry both on the work site, interacting with community members, and in evening worship, engaging students with the Holy Spirit, forced me to grow deeper into my gifts, and take on roles that I didn't know I was capable of."
Ian
"Being an emcee equipped me to communicate effectively. I was once afraid of speaking in front of big crowds. I am now excited to use my experience with Next Step as a stepping stone into pastoral teaching.  I can honestly say that my growth in speaking is due to the training and experience I received through Next Step."
Kim
"Interning with Next Step opened my eyes to the importance of community, leaving a profound impact on how I lead worship. When you do a summer with Next Step, you learn what it means to invite others into a space you are comfortable in, but also, learn how to be invited into new territory.  This has allowed me to step into every open door with a confident, "YES!" because I know that God will meet me on the other side ready to show me love through every ministerial position."
Connor
"My Next Step summer internship gave me the hands-on experience I needed as a young worship leader. These summer months helped craft my musical, missional and leadership skills. My internship helped me understand what it would be like to serve in full-time ministry, and has led me into opportunities to tour and into a full-time church position as a Worship Director."
THANK YOU FOR PARTNERING WITH US!
Day or night, Next Step Ministries is happy to hear from you. Whether you have a question, comment or concern, please don't hesitate to give us a call. As an additional resource, feel free to download this brochure for all your mission trip information in one place.