In the southwest corner of South Dakota, surrounded by rolling green hills and endless skies, lies the beautiful Pine Ridge Reservation. Students will work alongside Oglala Lakota Sioux tribe members and learn about their history, culture, and the challenges they currently face.
THE MISSION IN
PINE RIDGE, SOUTH DAKOTA
The Pine Ridge Reservation is full of rich stories, beautiful scenery, and diverse culture. But like many Native American reservations, its history is also marred by hardship and injustice — the effects of which can still be felt today. Alcoholism, drugs, unemployment, abuse, and suicide all impact family dynamics and the larger community on a daily basis.
With countless mission teams visiting Pine Ridge on a year round basis, our desire is to humbly walk alongside the friendships we have built and faithfully support the local organizations who work day in and day out on the reservation. Although families and individuals on the reservation face many challenges, there is hope. In our years serving out in Pine Ridge, we have seen individuals from the Reservation rise up, advocate for their community, feed the hungry, clothe the naked, and love the broken. God is there, and God is working.
One example of this is Ruby. Ruby is everyone's grandma. She is 75 years young, although she'll tell you she's 57, and she lives on the Pine Ridge Reservation. Grandma Ruby is one of the most selfless individuals we have ever met, and serves her community with everything she has, and loves everyone with the love of Christ. As Ruby tells the mission groups that come out with Next Step every summer, she "has nothing to give except her gratitude." This is largely because she gives all she has to her community. Whether it is using her social security income to purchase meals for people who are homeless, hosting church services at a local nursing home, or bringing the community together for Thanksgiving and Easter dinners, Ruby serves humbly in everything she does — always giving the glory back to God. We have been blessed to serve alongside Ruby since we started working in Pine Ridge.
While every partnership and project looks different, our goal is to meet the tangible, physical needs of people living in Pine Ridge. Usually this involves teams of students working on trailers and homes across the reservation. Even though our primary platform for partnership in Pine Ridge is construction-based, the heart of our ministry is relational. Students will have the chance to spend meaningful time with people like Ruby, and hopefully leave their trip with a better understanding of the Oglala Lakota Sioux tribe.
We've worked for years to develop trusting relationships with the community of Pine Ridge. With your help, we will continue to be able to build relationships with families and organizations that are founded on trust, rooted in humility, and centered on learning.
Join us next summer in Pine Ridge, South Dakota!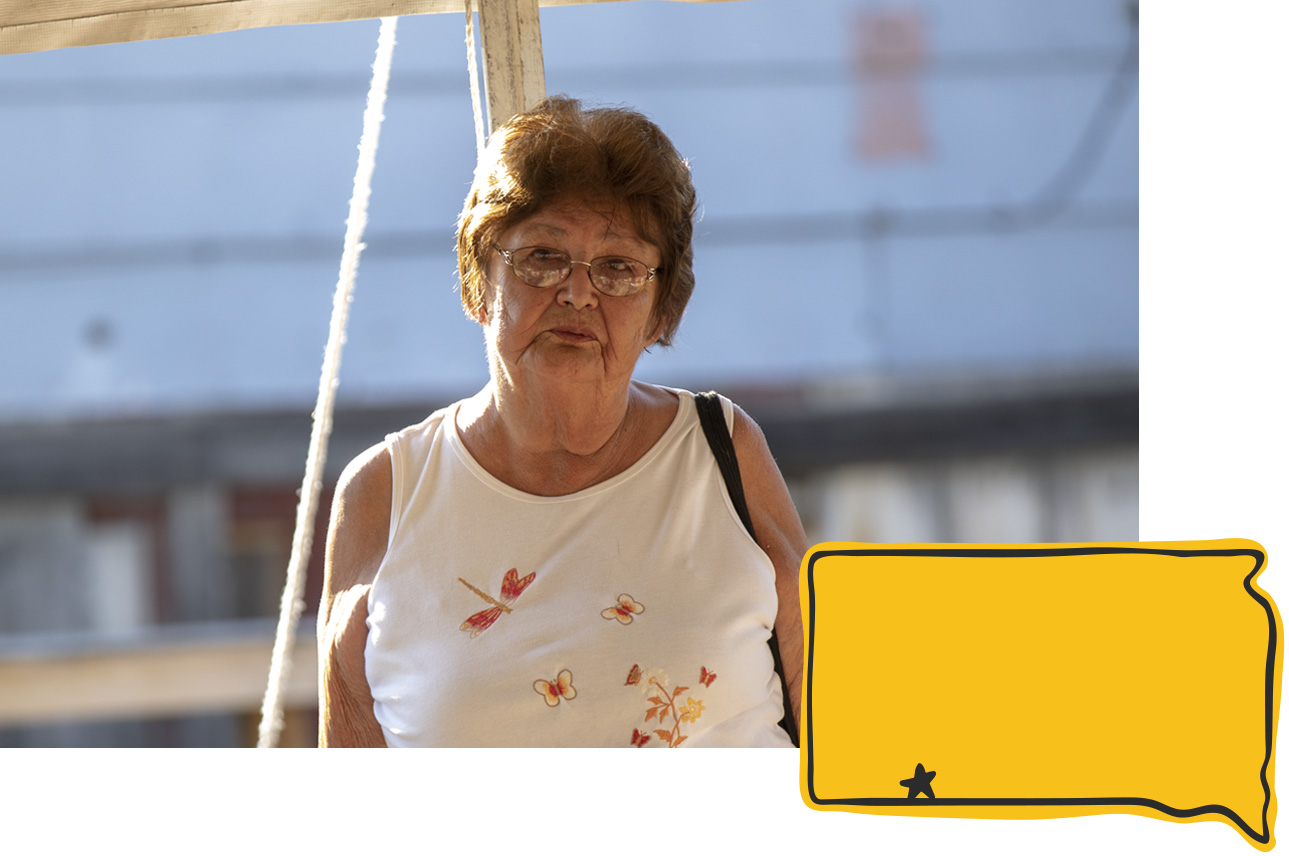 LAKOTA HOPE
We partner with Lakota Hope in their Night of Another Hope event. Students gather with community members to share a meal, worship together, and hear inspirational messages from local leaders. We also have the opportunity to support local artists, as there are many people who come to sell their beautiful crafts at the weekly event. Lakota Hope is another connection point for us to families on the reservation.

HANDS OF FAITH
Hands of Faith works to empower young adult men on the Reservation through a construction mentorship program. They believe that a healthy and consistent father-figure in the household can reverse problems on the reservation like alcoholism, abuse and suicide. They aim to help men grow spiritually, physically and vocationally. Hands of Faith is one of our connection points to families in the community.

#9 COMMUNITY CHURCH
In addition to hosting weekly church services, #9 Community Church has developed a strong, local church community that serves the greater Oglala Lakota Sioux tribe. Whether building friendships or building houses, #9 Community Church is beacon of hope in this community. Next Step teams have had the privilege to work alongside #9 Community Church, meeting the physical needs of the Pine Ridge community.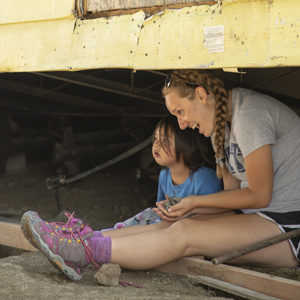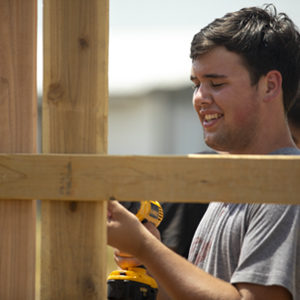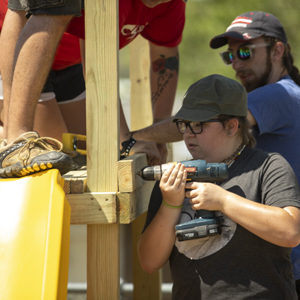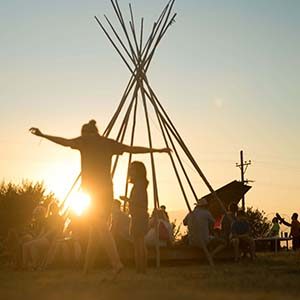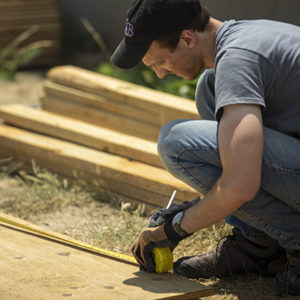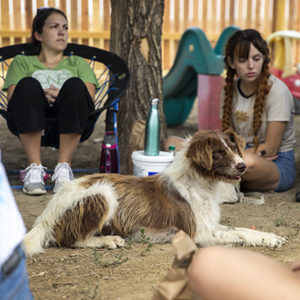 We've been told our worship experience is where summer camp meets mission trip. At Next Step, your students will create unforgettable memories and friendships while worshipping and growing together in their understanding of who Jesus is. Each evening will include great bands, challenging speakers and a powerful video series created and filmed exclusively for your mission trip.
Have you ever gone on a mission trip and been disappointed by the work projects? You're left wondering— isn't there something more we could have done? At Next Step, we have partnered with local community leaders to ensure that the projects are meaningful and alleviate vital building needs. Your students will work on projects such as full home builds, home additions, drywall, siding, flooring, wheelchair ramps, and more.
Do you ever wonder if your short-term mission trip really made a difference? At Next Step, students serve alongside local community members, churches and nonprofits, as we meet the needs of the community together. With our full-time staff living in the communities we partner with, and projects being selected by the community, you will be part of a movement in responsible short-term missions.
Makasan Presbyterian Church
16354 US Highway 18
Oglala, SD 57764
Groups coming to Pine Ridge this year will be staying on a property in Oglala that is being managed and used by close partners of ours. This building used to host church services, but will now be utilized to further the Mission of Lakota Hope, Ruby's meals on wheels program, and more. The convenience store, a few fast food restaurants, and a Family Dollar is about a 15 minute drive from Makasan.
The property itself is spread out, with unique buildings and structures in which the students and leaders will be sleeping, eating, and worshipping. There will be several different buildings for the groups to sleep in. An air mattress will need to be on each individual's packing list. Groups will be utilizing a toilet trailer as well as a shower trailer.
This site is bus accessible, but vans are strongly preferred as buses are not able to make it to certain sites. Some groups choose to fly and then rent vehicles for the week. The nearest airport is Rapid City Regional Airport (RAP) in Rapid City, SD and is a two hour drive from Pine Ridge. Another option is the Denver International Airport in Denver, CO approximately 5 hours from Pine Ridge.
Twin Size Air Mattress
Bedding & Pillow
Fans
Water Bottle
Sunglasses
Sunscreen
Insect Repellent
Towel
Toiletries
Swim Suit
Work Shoes
Work Clothes
Casual Clothes
Work Gloves
Safety Glasses
Hammer
SUNDAY (ARRIVAL DAY)
3:00-5:00 pm – Arrive to Mission Location
6:00 pm – Dinner
7:00 pm – Worship & Weekly Orientation
8:30 pm – Church Time, Small groups, Free Time
11:00 pm – Lights Out
MONDAY – THURSDAY (WORK DAYS)
7:00 am – Wake Up
7:15 am – Eat Breakfast & Lunch Preparation
8:15 am – Morning Devotional
8:30 am – Depart for Worksite & Begin Working
12:00 pm – Lunch & Devotion
1:00 pm – Resume Working
3:00 pm – Clean Up/Return
4:00 pm – Community Involvement Activity
5:00 pm – Free time/Showers/Leader Meeting
6:00pm – Dinner
8:00 pm – Worship
8:30 – Church Time/Small Groups/Free Time
11:00 pm – Lights Out
FRIDAY (COMMUNITY / FUN DAY)
8:00 am – Wake Up
8:15 am – Eat Breakfast & Lunch Preparation
9:00 am – Morning Devotion
9:15 am – Leave for Free Day Activity
4:00 pm – Shower Time/Free Time/Leader Meeting
6:00 pm – Dinner
7:00 pm – Worship
8:30 pm – Church Time/Small Groups/Free time
11:00 pm – Lights Out
When should I register for my trip?
Registration opens in July and will be available through early spring. To get your preferred dates, locations, and spaces, it is recommended to secure your spots sometime before October.
What is the min or max people per group?
For summer mission trips you must have a minimum of five participants to be eligible for a group. If you have less than five participants on your team, please contact our office. The maximum number of people will depend on location capacity and availability.
What is the adult to student ratio required?
Next Step Ministries asks each group to bring 1 adult for every 6 students.
Are background checks required?
Yes. Each church group is responsible for conducting background checks on each participant 18 years of age or older.
When will we find out what our work are?
Your group will learn about the work projects on the first night of your trip! Our staff will contact you 1-2 weeks prior to the trip to share updates and provide an adjusted tool list.
How are the trips staffed?
A Next Step Partnership Coordinator facilitates community partnerships, lines up projects, leads the summer staff, and coordinates other logistics such as lodging and accommodations. The trip itself will be facilitated by 8-12 energetic, mission-minded, and highly trained college interns. The site staff will include a construction team, worship team, speaker, meal coordinators, and administrative leaders to guide you through the week.
What if the trip I'm considering is already full?
Each location has a different max capacity, so please contact our office to learn more about spaces available. In the event we are fully booked for the trip you are interested in, we can put you on a wait list or help find alternative trip options. To avoid these delays, we recommend registering for your trip as soon as you can!
What is the payment schedule?
Payment for a Next Step Ministries mission trip is separated into a deposit and two scheduled payments:
Deposit - $50 non-refundable and non-transferable deposit per spot reserved due within 30 days of your trip registration date

March 15th Payment – 50% of remaining balance of trip cost due

May 15th Payment – 100% of remaining total balance of trip cost due
Is Next Step affiliated with a denomination?
No, we do not affiliate with a particular denomination. Next Step Ministries is an interdenominational organization and we partner with hundreds of churches from all different denominations on our mission trips. Please see our Statement of Faith to learn more about what we believe. In simple terms, we stick to the basics of the Gospel. Our foundation for ministry is to provide opportunities for students to connect and grow in a personal relationship with Christ.
How are the work projects selected?
Next Step Ministries works alongside community leaders, non-profit organizations, and the local church in order to set up work projects. Full-time Next Step Staff called Partnership Coordinators live and serve within the community year round and are well connected. Next Step collaborates with the community to plan the projects you will be working on in advance.
Will our group be paired with other groups?
You will most likely be attending a trip with 2-4 other youth groups. All groups will share sleeping quarters and we will have meals and worship together as a large group. Many of our mission site locations can accommodate for 80-100 volunteers each week. For work projects, we love to mix students, but also understand many groups prefer to stick together. Please let us know your preference and we will plan accordingly!
Is the mission trip safe?
Yes. Next Step Ministries exists to give middle school, high school, and college students an opportunity to explore their faith, experience God, and extend service to others on a mission trip. Students are our top priority and safety is always our primary concern. Thankfully, because of our long-term commitment and involvement within the community, we have developed many close relationships with local families and organizations. The community is familiar with Next Step and we've worked hard to humbly earn their trust and respect. Because of these close friendships we are the first to know if something out of the ordinary comes up or is unsafe.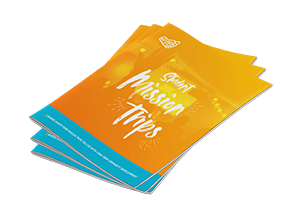 WANT MORE INFORMATION?
Day or night, Next Step Ministries is happy to hear from you. Whether you have a question, comment or concern, please don't hesitate to give us a call. As an additional resource, feel free to download this brochure for all your mission trip information in one place.