INTERNATIONAL
MISSION TRIP
Nestled in the mountains of Guatemala is the beautiful Mayan community of Sumpango. Students will have the opportunity to experience a new, vibrant culture, while working alongside Breaking Cycles and local churches to meet the challenges of extreme poverty.
THE MISSION IN
SUMPANGO, GUATEMALA
Partnership is the key to sustainable missions. And nowhere is partnership greater than in Sumpango, Guatemala.
Located about an hour from Guatemala City, Sumpango is home to Betty Merida, Next Step's community partner. We first met Betty in 2007 on our first mission trip to Guatemala. Betty is a local Guatemalan teacher who felt God calling her to serve the people of Sumpango. She founded Breaking Cycles, a ministry that works alongside Busca A Dios (a local outreach church) to provide safe, permanent houses for families. She is determined to break cycles of poverty, ignorance, and abuse with the love and power of the Holy Spirit.
Next Step is excited to work alongside Betty and Busca A Dios as we build and expand their church building, serve at a local HIV orphanage and construct home additions for overcrowded families. Student teams will also walk the streets during powerful home visits, where you will have the opportunity to pray and share your faith with many Guatemalan families.
If you're looking for a mission trip that will expose students to a new culture, while giving them a variety of construction and relational ministry opportunities, then Next Step's mission trip to Sumpango is for you. Know that you can be a part of what God is doing in Guatemala, as we seek to be the body of Christ, and share our gifts and passions with one another.
Join Betty and our Guatemalan community partners on a mission trip to Sumpango this summer!

ANNA VITTIELLO
ORPHANAGE
Houses children living
with HIV/AIDS
This Catholic orphanage and school is filled with approximately fifty beautiful children living with HIV/AIDS. Our partnership includes construction projects at the facility, as well as supporting the staff with music, games and free time activities for the children. It's hopeful to see the safe and supportive learning environment that this campus provides for the children.

BUSCA A DIOS
Busca A Dios is an outreach-focused church that tries to meet the needs and empower local families. Our partnership includes helping with their summer-long children's VBS program and working alongside the community to build church additions with block and concrete. It has been truly encouraging to see how God has worked through Busca A Dios over the years.

BREAKING CYCLES
Housing and Education Ministry
Breaking Cycles' mission is to provide safe, permanent housing for families, while helping to break cycles of poverty, ignorance, and abuse with the love and power of the Holy Spirit. Next Step works alongside Breaking Cycles to build 5-8 home additions per summer for families living in a state of poverty. Students will see the direct impact of thier work on these families.
We've been told our worship experience is where summer camp meets mission trip. At Next Step, your students will create unforgettable memories and friendships while worshipping and growing together in their understanding of who Jesus is. Each evening will include great bands, challenging speakers and a powerful video series created and filmed exclusively for your mission trip.
Have you ever gone on a mission trip and been disappointed by the work projects? You're left wondering— isn't there something more we could have done? At Next Step, we have partnered with local community leaders to ensure that the projects are meaningful and alleviate vital building needs. Your students will work on projects such as full home builds, home additions, drywall, siding, flooring, wheelchair ramps, and more.
Do you ever wonder if your short-term mission trip really made a difference? At Next Step, students serve alongside local community members, churches and nonprofits, as we meet the needs of the community together. With our full-time staff living in the communities we partner with, and projects being selected by the community, you will be part of a movement in responsible short-term missions.
The trip is hosted at the Hotel San Miguel in El Tejar. The hotel has AC and large hotel style rooms that sleep anywhere from 4-16 people. There are beds with mattresses, sheets, and pillows, but there are no towels or washcloths provided. Along with this, every room has its own individual bathroom and shower. There is a large dining hall & kitchen within the gated property, and we will also worship in the evenings at the hotel in a spacious area. Lastly, the hotel has its own private security team here, helping us to always feel extremely safe.
Please book your flights for arrival and departure through the Guatemala City La Aurora International Airport (GUA). Our friendly Next Step staff will be waiting for you at the airport and will provide ground transportation for the entire trip. The airport is about 1 hour away from our mission site in Sumpango.
Passport
Water Bottle
Sunglasses
Sunscreen
Swim Suit
Insect Repellent
Toiletries
Rain Jacket
Rain Boots
Work Gloves
Safety Glasses
Work Shoes
Work Clothes
Casual Clothes
SUNDAY (ARRIVAL DAY)
Land in Guatemala City
Meet the Next Step Ministries staff at the airport
Drive to the hotel
Unload luggage/Free Time
Dinner
Orientation and Worship
11:00 pm Lights Out
MONDAY – THURSDAY (WORK DAYS)
7:00 am – Wake Up
7:15 am – Eat Breakfast & Lunch Preparation
8:00 am – Morning Devotional
8:15 am – Depart for Worksite & Begin Working
12:00 pm – Lunch & Devotion
1:00 pm – Resume Working
3:30 pm – Clean Up/Return
4:00 pm – Free time/Showers/Leader Meeting
6:00pm – Dinner
7:00 pm – Worship
8:30 – Church Time/Small Groups/Free Time
11:00 pm – Lights Out
FRIDAY (COMMUNITY / FUN DAY)
8:00 am – Wake Up
8:15 am – Eat Breakfast & Lunch Preparation
9:00 am – Morning Devotion
9:15 am – Community/ Fun Day Activity!
4:00 pm – Shower Time/Free Time/Leader Meeting
6:00 pm – Dinner
7:00 pm – Worship
8:30 pm – Church Time/Small Groups/Free time
11:00 pm – Lights Out
When should I register for my trip?
Registration opens in July and will be available through early spring. To get your preferred dates, locations, and spaces, it is recommended to secure your spots sometime before October.
What is the min or max people per group?
For summer mission trips you must have a minimum of five participants to be eligible for a group. If you have less than five participants on your team, please contact our office. The maximum number of people will depend on location capacity and availability.
What is the adult to student ratio required?
Next Step Ministries asks each group to bring 1 adult for every 6 students.
Are background checks required?
Yes. Each church group is responsible for conducting background checks on each participant 18 years of age or older.
When will we find out what our work are?
Your group will learn about the work projects on the first night of your trip! Our staff will contact you 1-2 weeks prior to the trip to share updates and provide an adjusted tool list.
How are the trips staffed?
A Next Step Partnership Coordinator facilitates community partnerships, lines up projects, leads the summer staff, and coordinates other logistics such as lodging and accommodations. The trip itself will be facilitated by 8-12 energetic, mission-minded, and highly trained college interns. The site staff will include a construction team, worship team, speaker, meal coordinators, and administrative leaders to guide you through the week.
What if the trip I'm considering is already full?
Each location has a different max capacity, so please contact our office to learn more about spaces available. In the event we are fully booked for the trip you are interested in, we can put you on a wait list or help find alternative trip options. To avoid these delays, we recommend registering for your trip as soon as you can!
What is the payment schedule?
Payment for a Next Step Ministries mission trip is separated into a deposit and two scheduled payments:
Deposit - $50 non-refundable and non-transferable deposit per spot reserved due within 30 days of your trip registration date

March 15th Payment – 50% of remaining balance of trip cost due

May 15th Payment – 100% of remaining total balance of trip cost due
Is Next Step affiliated with a denomination?
No, we do not affiliate with a particular denomination. Next Step Ministries is an interdenominational organization and we partner with hundreds of churches from all different denominations on our mission trips. Please see our Statement of Faith to learn more about what we believe. In simple terms, we stick to the basics of the Gospel. Our foundation for ministry is to provide opportunities for students to connect and grow in a personal relationship with Christ.
How are the work projects selected?
Next Step Ministries works alongside community leaders, non-profit organizations, and the local church in order to set up work projects. Full-time Next Step Staff called Partnership Coordinators live and serve within the community year round and are well connected. Next Step collaborates with the community to plan the projects you will be working on in advance.
Will our group be paired with other groups?
You will most likely be attending a trip with 2-4 other youth groups. All groups will share sleeping quarters and we will have meals and worship together as a large group. Many of our mission site locations can accommodate for 80-100 volunteers each week. For work projects, we love to mix students, but also understand many groups prefer to stick together. Please let us know your preference and we will plan accordingly!
Is the mission trip safe?
Yes. Next Step Ministries exists to give middle school, high school, and college students an opportunity to explore their faith, experience God, and extend service to others on a mission trip. Students are our top priority and safety is always our primary concern. Thankfully, because of our long-term commitment and involvement within the community, we have developed many close relationships with local families and organizations. The community is familiar with Next Step and we've worked hard to humbly earn their trust and respect. Because of these close friendships we are the first to know if something out of the ordinary comes up or is unsafe.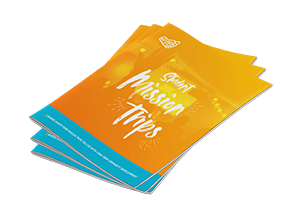 WANT MORE INFORMATION?
Day or night, Next Step Ministries is happy to hear from you. Whether you have a question, comment or concern, please don't hesitate to give us a call. As an additional resource, feel free to download this brochure for all your mission trip information in one place.