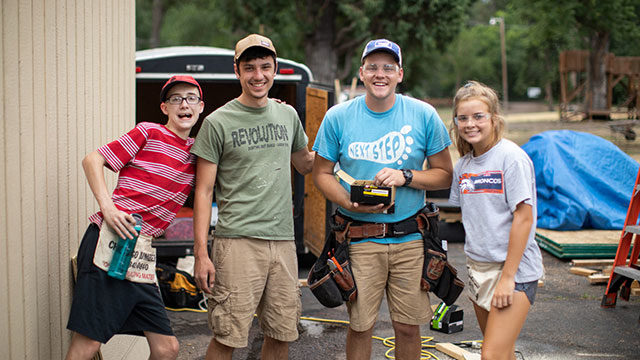 Next Step offers a unique work project experience for your students by providing opportunities to learn new skills, serve as a team, and contribute to a meaningful building project in the community. Your work project would likely include a wide variety of residential home repair projects or serving local organizations by improving the conditions of their facilities. Whichever project you may be involved in, you can be confident that your efforts are vital in alleviating building needs in the community.
WHAT TO EXPECT ON THE MISSION TRIP
Next Step's commitment to working alongside communities ensures that the projects selected each year are meaningful to the community. Whether it's a homeowner seeking a safe shelter to call home, or an organization's facility becoming better equipped to live out their mission in the community, you can know your efforts are contributing in great ways.
At Next Step we are continuously improving our construction through quality work, sustainable development, and strong partnerships within communities. We believe the work we do represents the God we serve. Our focus is to always provide the best work possible and to use construction as a platform to effectively share Christ's love within a community.
Next Step is committed to the safety of every person participating in our mission trips. Safe worksites are crucial to completing projects in each community. Day in and day out, work crews are equipped with personal protective equipment, instructions on tool safety, and known hazards on site.
We work side by side with the community to make sure the work doesn't end when students leave. Next Step's partnership stays strong with follow-up inspections, continued repair, or completion of projects and most importantly spiritual and relational support throughout the year.
CONSTRUCTION YOUTUBE CHANNEL
We want to be known for the quality of our work and we desire that the communities we serve with to be honored by the work we do. We have developed how-to instructional videos to help you join us in meeting a standard of quality. These videos can be used to learn proper construction practices before going out on the worksite. Follow and subscribe to our YouTube Channel, "NSM Construction" to learn more.